AZLE — In Azle, Texas, dinosaurs walk the Earth.
A former dance hall and wedding venue on Jacksboro Highway has had a makeover of prehistoric proportions and on Nov. 3, plans to open its doors to the public. The long-anticipated Dinosaur Land Museum is finally ready for visitors and its creators, Sarah and Richard Cantu, couldn't look more forward to the future.
Sarah Cantu sees Dinosaur Land as a part of fulfilling a lifelong dream. Growing up, her grandfather owned a country park festival in Oklahoma, where he lived with his family.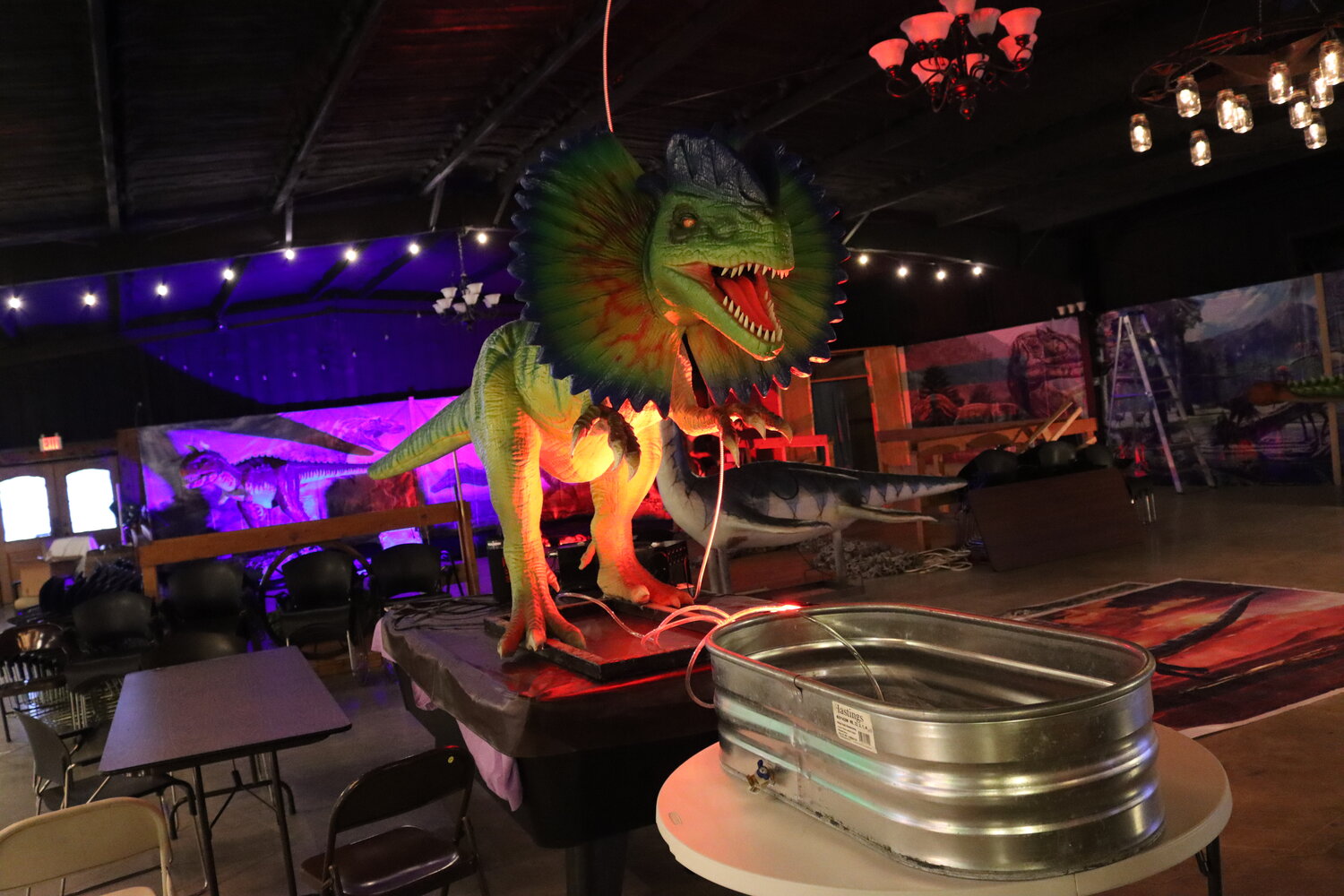 "He kind of had it all," Cantu said. "I loved the concept that his family was there, he lived there, and so he had his success, he had his money, he had his time, and he had his family all in one location. So, when I grew up, I thought I wanted the same thing. That's kind of what inspired (Dinosaur Land)."
A natural entrepreneur, Cantu graduated high school at age 16 and bought her first home at 19. In her 20s, Cantu earned two degrees, including one in marketing, and had patents pending. Unfortunately, Cantu entered the workforce during an economic downturn and unable to pursue her ultimate business goals, she became a Dallas police officer instead. That's where she met her husband, Richard. Over the 11 years since, the two had four daughters together and have been building toward their dream. Today Richard Cantu is a Fort Worth police officer and Sarah Cantu spends her time between getting Dinosaur Land ready and homeschooling their daughters.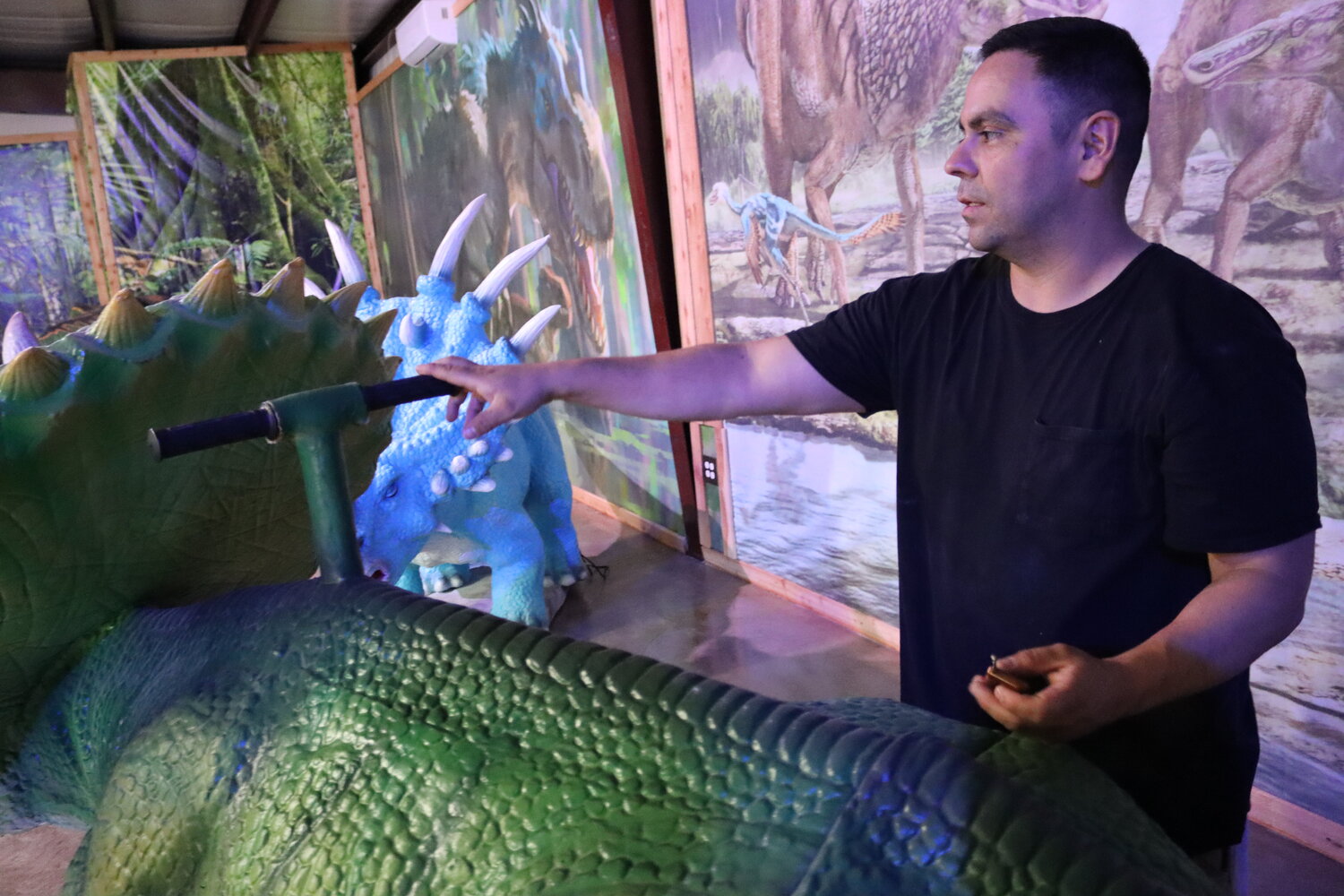 Reactive animatronic dinosaurs, life-like puppets, a wearable Parasaurolophus costume and a remote-controlled ridable walking Triceratops are just a few of the attractions the nonprofit has in its toolbelt. Vibrant and active backdrops spring to life all over the main building. A walking path through the forest on the Cantus' property is flanked by terrible lizards on each side and leads to another building housing children's activities, a Play Dino Cafe, Dino Hospital and sand boxes. The colors, designs and abilities of each animatronic dinosaur are all custom-selected by the Cantus. The couple did a lot of research in choosing the dinosaurs but also took a personal approach and chose brighter, more vivid colors for younger kids.
Born and raised in River Oaks, Sarah Cantu remembers when it was just a quaint, small country town. The couple moved to Azle, where some of her husband's family lives, in part because it reminds Sarah Cantu of the community she grew up in.
The couple saved money, little by little, buying the property in 2015 and building onto it when they could. Even though their wedding venue business made ten times the money as their dance hall, which they closed during the initial COVID-19 lockdowns, the Cantus' decision to risk it all on Dinosaur Land largely lay with their children.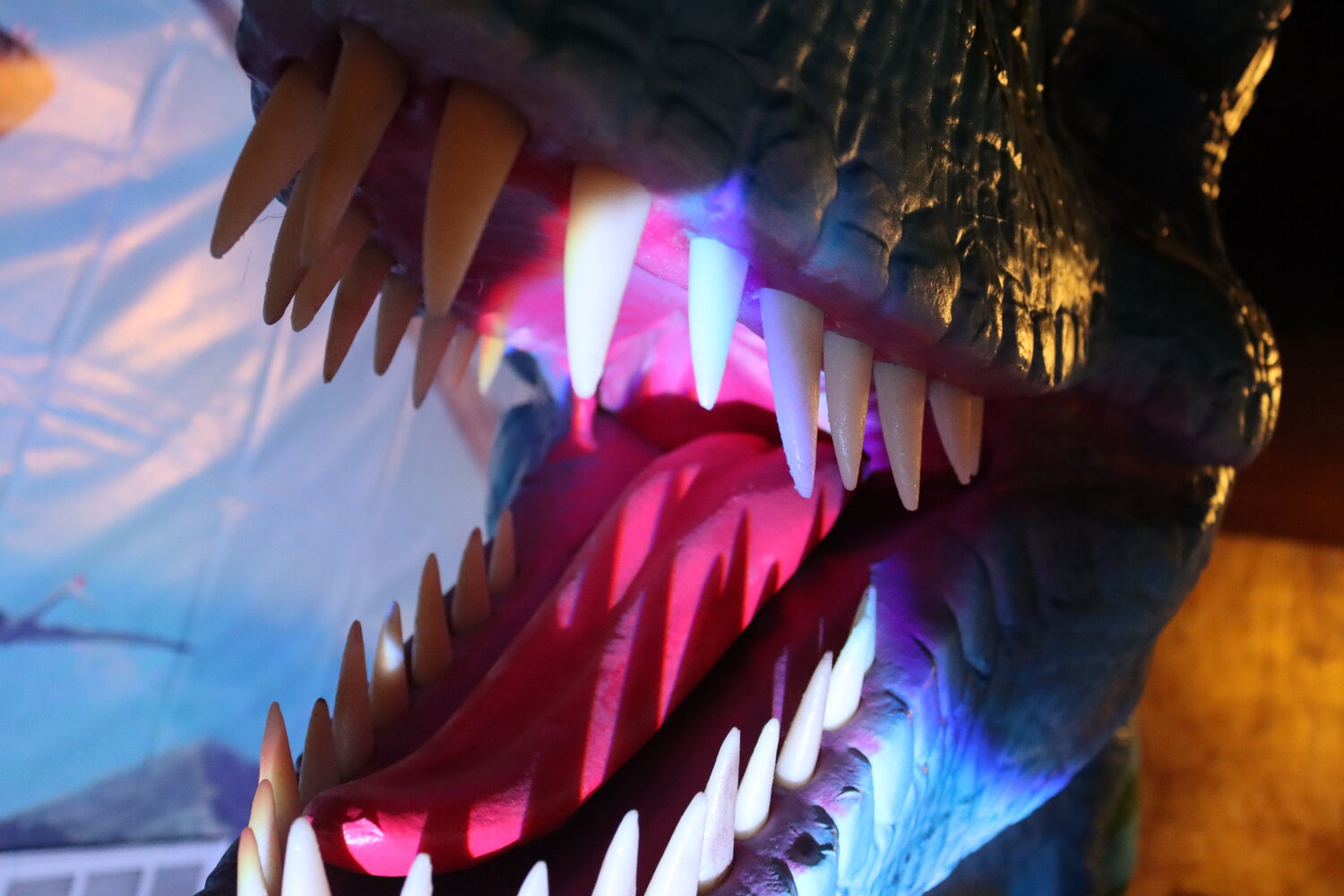 "We want them to not always have to hide in the corner, hide in the back, have to stay home with a babysitter, stuff like that," Richard Cantu said. "We wanted something to where a family could be here, our family could run around here and nobody would really say anything. We homeschool our kids and we like to take them out to different things, museums, to see what other communities have to offer. Since this area has been so good to us with the dance hall, then the weddings and stuff like that, we decided to do something more family-oriented and that's when Sarah came up with the dinosaur idea."
The Cantus described their second daughter as a tom girl and credit her with much of the inspiration for the attraction.
"She kind of has a dinosaur obsession. She thinks she's a park ranger. She made us watch Dino Dana and all those shows a thousand times and she could tell us about every dinosaur on that show. So, we were kind of absorbed in dinosaurs for a while."
In January 2023, the Cantus stopped hosting weddings and began planning and constructing Dinosaur Land.
Originally, the pair wanted to open the park in September. After numerous stumbling blocks and a long-delayed ocean freight full of animatronic dinosaurs, they see opening day like a big test deadline and are anxious to reach the next milestone.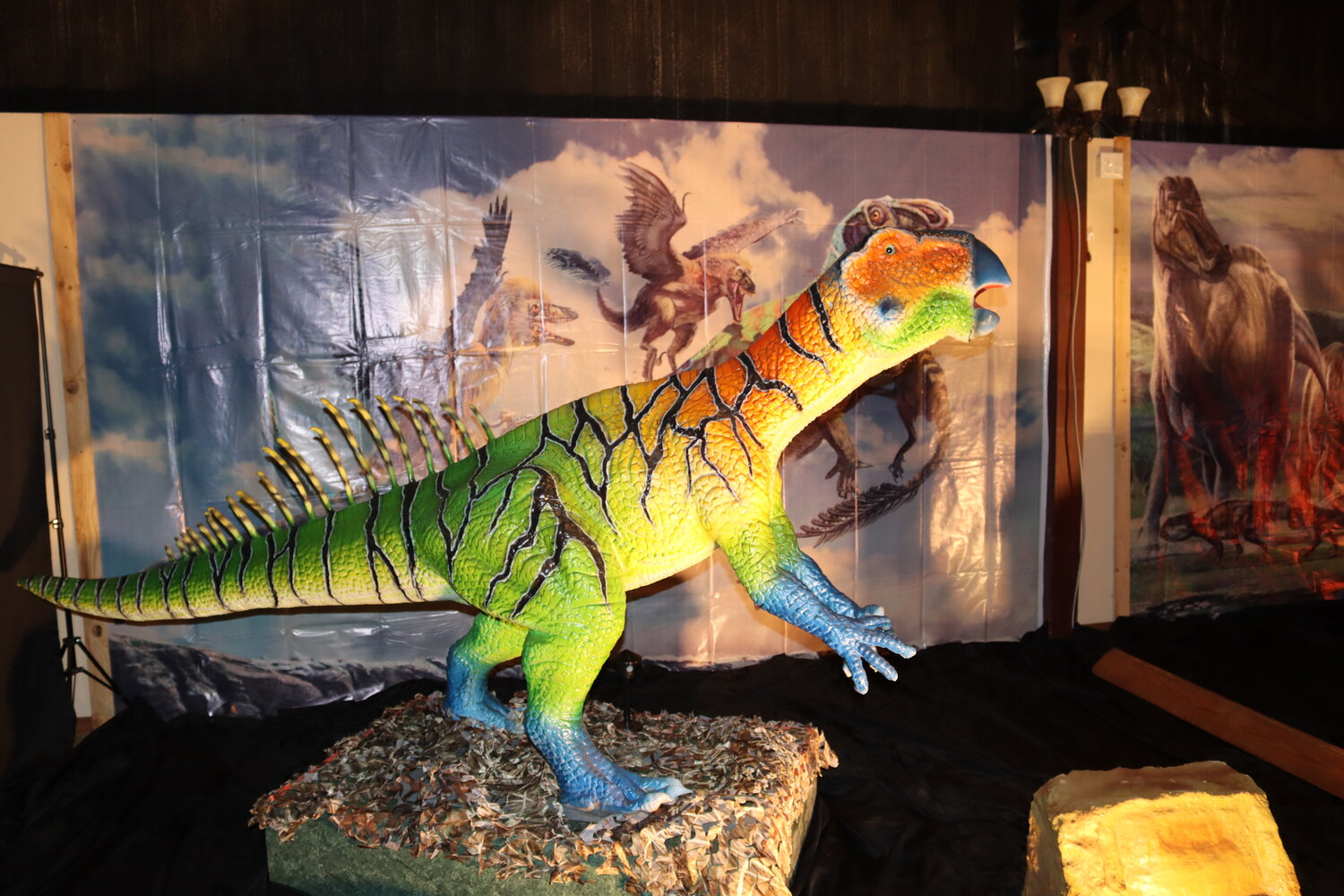 "There were a million setbacks," Sarah Cantu said. "We just kept overcoming every single obstacle with the determination to get this done. Finally, we are here."
For the Cantus, opening day is just the beginning. They hope to receive about two shipments of new dinosaurs every year so they've always got something new for guests. One day, they envision filling every possible inch of the five-acre lot with as many dinosaurs as possible as well as including massive playgrounds, sand pits and a small train in the future. The facility hopes to educate kids on some basic dino facts without being overwhelming, but chiefly the Cantus want to see Dinosaur Land spread joy.
"We're either smart or crazy," Sarah Cantu said of the hard work and future of the facility.
The Cantus hope to become an established part of the Azle community and plan on operating year-round, decorating and changing themes based on the holiday season or the community's needs. Just after Thanksgiving, the couple hopes to start setting up for Christmas in Dinosaur Land and adorn the property with colorful festive lights and decorations.
"Thinking of what is close that has dinosaurs, you've got Glen Rose obviously and then you've got the ones that just go on tour," Richard Cantu said. "Well, it'd be great to have one that's a permanent part of the Fort Worth area."
Part of the couple's mission is to be well-priced, affordable and something that people can enjoy all the time. Tickets cost $11.99 for kids, $15.99 for adults. Seniors, police, fire and active-duty military members pay $14.99, and they hope to incentivize field trips for schools, boy scout groups and other children's organizations with an $8 per entry price. The couple hopes to eventually have a full kitchen but for the time being, are selling basic concession and seasonal items and in-house pizzas with their birthday packages.
Dinosaur Land, located at 12175 Jacksboro Highway in Fort Worth, hopes to start out by being open on Fridays, Saturdays, Sundays and Mondays. If demand increases, they will expand the number of days they operate. visit their website for more information https://mydinosaurland.com/